Hi all, I am very excited to announce that the book is now available for purchase in print and electronic formats from various online stores including Amazon and No Starch Press. Please see the Buy page for others.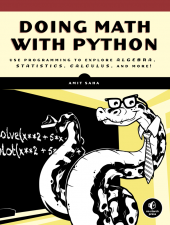 If you are keen to take a look at the contents and read a sample chapter, please head over to No Starch's book page.
Alternatively, if you are keen to recieve a review copy, please email doingmathwithpython@gmail.com and I will try to request one from the publishers.
Stay in touch
You can stay connected with the book, its readers and me via the following channels:
You can contact me directly via:
Find this post useful? Please share.